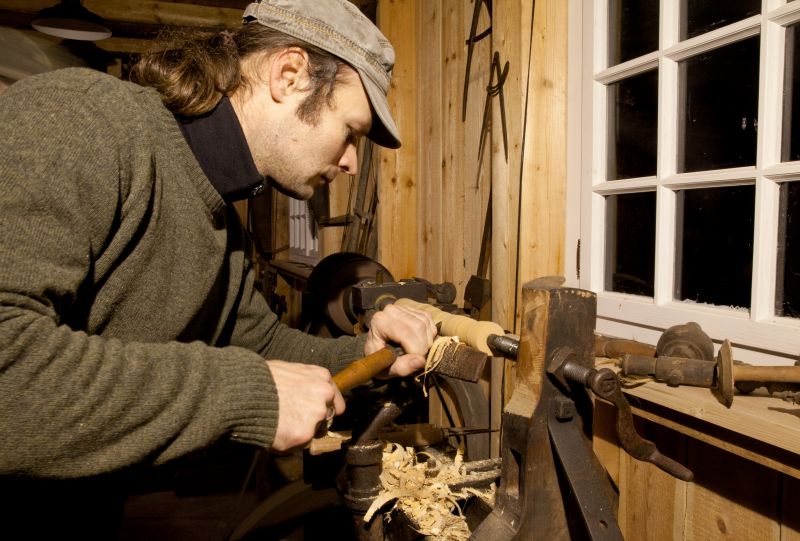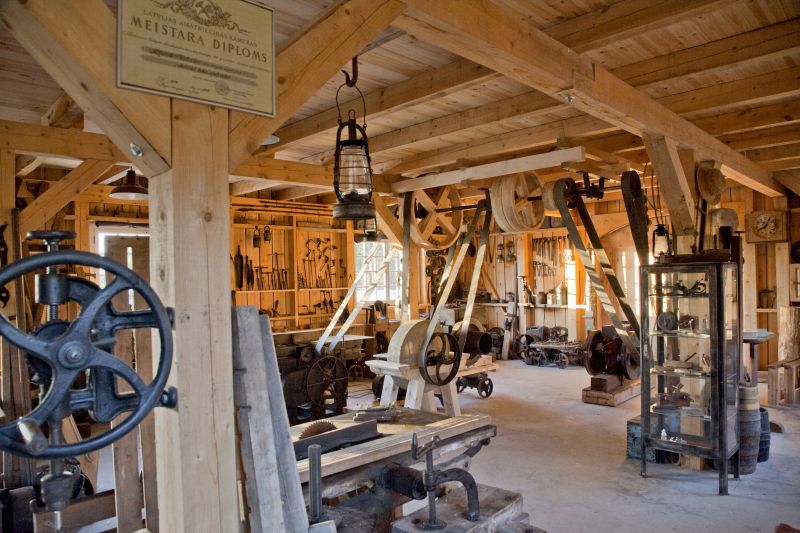 The Woodcraft Museum has been arranged as a historical workshop. It is situated in the Vienkoči Park and it possible to learn there how the craftsmen of the past used to make household items both for landlords and other people. It is possible to learn about nuances of producing the log-ware and other wooden objects from the Stone Age till nowadays. A special attention has been dedicated to the process of producing log-boats. Workshops are organized during thematic events.
Woodcraft Museum has been arranged as a historic workshop, where most of the tools exhibited are in working order. The exhibition is constantly being enriched and developed. Here it is possible to learn about the development of woodcraft from the Stone Age till nowadays. The basis of the museum's workshop are the working machines, run via transmission axis with a help of the engines and belts. The overall style of arrangement in the workshop corresponds to that of late 19th and early 20th Ct.
The idea of Woodcraft Museum was born in summer 1999 when motivated by his father Guntis Vidzickis, Rihards Vidzickis bought historical working machines from farmstead (living barn) "Jaunalēni" in Naukšēni region and brought them to Ligatne. These machines form an important part of current exhibition. Even before that father of Rihards Vidzickis worked with the wood and studied the history of woodcraft, as well as collected various historic tools. In 1994 Rihards started to study at Riga Secondary School of Crafts, faculty of Woodworking, as suggested by his father. After five years of intense studies Rihards graduated in 1999, at the same time obtaining three apprentice' s diplomas of woodcarver, wood-sculptor and carpenter, issued by the Latvian Chamber of Crafts, and entered Riga Technical University to continue his studies connected to wood. His main attention while studying are technologies of making log-ware and objects of solid wood. At the same time a place for Woodcraft Museum is being searched. In 2003 Rihards started to create the Vienkoču Park, main idea being foundation of Woodcraft Museum. From 2003 to 2005 in his Master's Thesis Rihards works out the concept of the Vienkoču Park and Woodcraft Museum. In 2004 Rihards obtains Master's diploma in treatment of natural wood, issued by Latvian Chamber of Crafts.
The Vienkoču Park was opened for public in 2007. Initially a temporary museum/ workshop was arranged in one of the historic barns, brought from Latgale region. The most part of the exhibits however waited for more spacious premises. In 2005 entering the Doctorate in Riga Technical University, Rihards continues to study technologies of solid wood treatment paying attention to creation of outdoor exhibition of the Vienkoču Park and improvement of Woodcraft Museum's concept. During the scientific work the Park became a field for experiments of solid wood treatment. In 2011 planning of the Museum commences. In 2012 Rihards defenses his Doctoral Thesis "Cutting Technology of Objects for Outdoor Environment" and obtains his Doctor's degree in engineering sciences. In summer 2013 the current building of Woodcraft Museum was built. In 16th of May 2014 it was opened for public. This is just the first part of the project, being just one third of whole idea. The museum will be developed as soon as it will be possible.
The Vienkoču Park serves as outdoor exposition of the Museum where it is possible to learn about woodcraft, as well as local history, nature and green thinking.
Wholesome and detailed visit of the Woodcraft Museum is possible during guided tours. Booking of the tours: Phone: +371 29329065 or e-mail: This email address is being protected from spambots. You need JavaScript enabled to view it..